Top Quality Printer Consumables Supplier

Professional Factory of Inkjet Cartridges, Laser Toner Cartridges, Label Tapes, Printer Ribbons, Printer Consumables
TN660 TN2320 TN2325 TN2345 TN2350 TN2375 TN2380 TN28J Toner Cartridge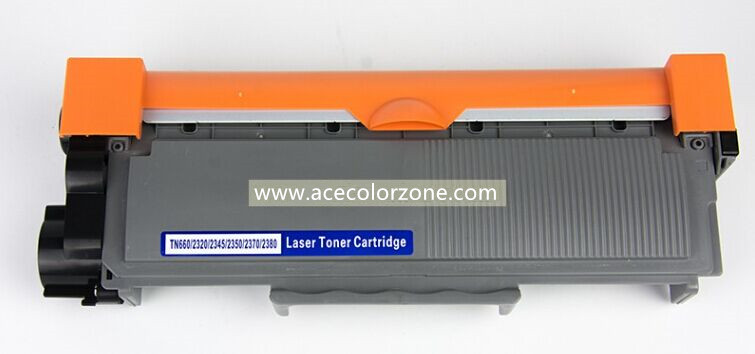 ---
TN660/2320/2325/2345/2350/2375/2380/28J compatible for brother toner cartridges.
OEM no. : TN660,TN2320,TN2325,TN2345,TN2350,TN2375,TN2380,TN28J
Color : black
Pages yield :1200 pages
Laser toner for use in Brother HL-2260/HL-2260D/HL-2560DN/HL-L2300D/HL-L2300DR/HL-L2320D/HLL2340DW/HL-L2340DWR/HL-L2360DW/HL-L2360DN/HL-L2360DNR/HL-L2365DW/HL-L2365DWR/HL-L2380DW , Brother DCP-L2500D/DCP-L2500DR/DCP-L2520DW/DCP-L2520DWR/DCP-L2540DW/DCP-L2540DNR/DCP-L2540DN/DCP-L2560DW/DCP-L2560DWR , Brother MFC-L2700D/MFC-L2700DW/MFC-L2700DWR/MFC-L2720DW/MFC-L2720DWR/MFC-L2703DW/MFC-L2740DW/MFC-L2740DWR.
Quality Guarantee
1. We have the strong advantage of quality and cost control. We runs completely according to ISO9001 quality system.
2. We can ensure the quality can meet professional test as Black Test, Gray Test, Ghost Test, Blank Test and Word Test.
3. All of our products are 100% pre-tested prior to leaving the factory, Defective rate below 1%.
4. We guarantee for 100% replacement or refund for any defective products.
---